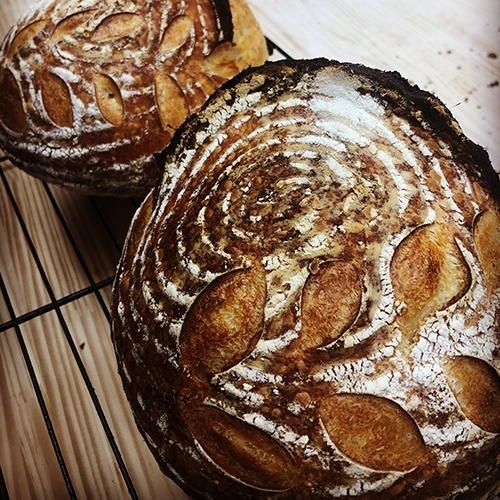 The breads offered at Gloria's Apron are crafted by hand one at a time to ensure their quality and authenticity. This is what your morning needs! A hot, fresh, delicious loaf of bread for breakfast with a cup of coffee or tea. You'll never go back to store-bought loaves again!
Our bread is made in small batches using whole grain flour, milk, eggs, and other natural ingredients. The result is a loaf so tasty and moist that it'll have you coming back for more.
Some of our breads may take up to 24 hours of fermentation time in order to achieve our desired flavor. The dough we use is mixed slowly with a heavy focus on the best texture and flavor that comes from letting this happen naturally.
Because of how extensive this process is, it can take a few days to produce each bread, which is why you should always order ahead. We work hard to provide you with quality and consistency in all of our bread products.
Quality Handmade Breads
Our focus will always be on delivering a product that's based entirely on quality as opposed to quantity. You can't make a sandwich without bread! We have a variety of breads for any need or craving. Our breads are handmade in the traditional methods that artisans have been using for centuries.
We do things differently at Gloria's Apron, starting with the finest ingredients, carefully sourced, and painstakingly prepared. Some of our most popular breads include:
Sourdough
Our Sourdough bread is seemingly in a league of it's own. With a light, sour flavor and firmer texture than what you may be used to, it's quickly gaining popularity for being one of the best for basic-to-gourmet applications. It tastes great plain or prepped any way you want.
Ciabatta
Ciabatta Bread is a delightfully rustic loaf that's perfect for dipping into soups and sauces. We'll bake you a a crusty, open-crumbed loaf of ciabatta bread that is the ideal bread for toast or sandwiches. The irregular crumb means no two bites of the bread are the same. Plus, ciabatta is not heavily sour. This means it adds a mellow taste to your dish that won't overpower the other ingredients.
Brioche
Our Brioche is lightly sweet, rich in butter and eggs, and even more fluffy than bread. What could be more perfect? Brioche originated in France and has been around since the 18th century and still hasn't lost its popularity. This Brioche bread has the ultimate soft and fluffy texture. The sweet buttery flavor will make it a favorite when making Bread Pudding or French Toast. Brioche has become a popular bread as buns for your burgers!
Baguettes
Our Baguettes are always the best for any occasion. You can use them for your soup, salads or hearty roasts. Fresh bread baguettes are a great addition to any meal. A French baguette is a long, thin loaf of bread with a crisp crust and a chewy center. It is made with three simple ingredients: water, flour, salt, and yeast.
Cinnamon Swirl Bread
Our Cinnamon Swirl Bread is an indulgent & delicious experience for the morning time. Simply warm it up & enjoy with a hot cup of coffee for a delicious breakfast or anytime snack. This bread is deliciously soft and tender with gooey cinnamon filling. Our Cinnamon Swirl Bread is a soft, white bread with cinnamon-spiced swirls that looks beautiful on any table. Slicing into it and slathering butter on is a little bit like heaven in your mouth.
---
Bread Price List
Sourdough Boule - $9.00
Dark Rye - $8.00
Whole Grain Sourdough - $10.00
Ciabatta Slipper - $8.00
Orchard Apricot Walnut Bread - $12.00
Brioche - $10.00
Challah with Seeds - $13.50
Danish Seeded Loaf - $9.00
Baguette - $7.00
American Dinner Rolls – Half Doz. $6.00 / Bakers Doz. $12.00
Cinnamon Swirl Loaf - $10.99
Deli Rye - $7.00
Potato Bread - $8.00