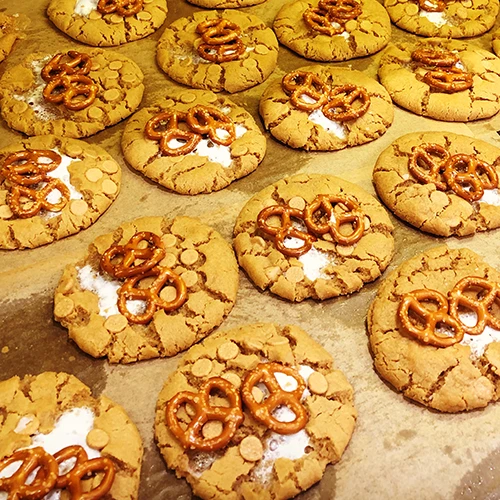 Everyone loves our fresh-baked cookies. The smell of chocolate chip or sugar cookies baking in the oven is an unforgettable smell that's reminiscent of childhood. At Gloria's Apron, we offer a vast selection of delightful cookie products that include everything from chocolate chip and butter varieties to sugar cookies.
If you call or stop by to make an order, you can choose to add logos or custom artwork to the sugar cookies as well as some of the traditional standards.
Chocolate Chip
These cookies are soft, thick, bricks of chocolate chunks and buttery dough baked into a heavy, milk-loving cookie with golden edges and tender centers. It's a comforting treat that combines nostalgia and deliciousness, especially when it's soft chocolate chip cookie as good as this. 
Fluffernutter
Peanut butter cookies with a sticky twist! These soft Fluffernutter cookies are filled with gooey marshmallow fluff that peeks out as they are baked, creating a pretty, cracked top. Peanut butter cookies are timeless and consistently perfect but putting a marshmallow in the center is over-the-top delicious. Soft and chewy peanut butter cookies surround a sweet marshmallow filling to make everyone smile!
Sugar Cookies
With crisp edges, thick centers, light, pillowy, and packed with flavor. We know you'll love our sugar cookies that are ever so crispy around the edges, glistening with sugar crystals, and packed with a sweet vanilla-wheat flavor. Sugar cookies are a perfectly sweetened cookie that is irresistibly addictive
Ginger Snaps
Ginger Snaps are my mom's favorite. Spicy and sweet, with soft chewy centers and crisp edges. Perfect for the holidays.
Peanut Butter
Our peanut butter cookies are soft and chewy with a fudgy peanut butter center, finished with sprinkle of flakey salt. Intense and decadent.
Coconut Macaroons
Made with only a few ingredients, our Coconut Macaroon are delicious, addictive bites. So crunchy on the outside with toasted coconut and sweet and chewy on the inside.
Double Chocolate Espresso
Calling all chocolate lovers. Our Double Chocolate Espresso cookie is bold and intense with dark chocolate flavor in every bite. Chocolate cookie dough with dark chocolate chips, with espresso to enhance the chocolate flavor.
Snickerdoodle
Snickerdoodle are an American classic that are crinkly-topped, chewy, and tangy with a cinnamon sugar finish.
Monster Cookies
Fun and colorful, Monster Cookies are jam packed with all things wonderful/ peanut butter, chocolate chips, M&M's, Oatmeal. Perfect for an after school snack
Cranberry Swirl Shortbread
Our Cranberry Swirl Shortbread is a delicious, buttery shortbread swirled with homemade cranberry puree. Tart, buttery, and satisfying.
Madeleines
All the elements that makeup cookies and cakes are happily merged in a Madeleine. The rich batter is baked in a special shell shaped mold that has a delightful light texture and flavored with lemon, orange, vanilla, and chocolate just to name a few. The possibilities are endless!
---
Cookie Bar Flavors
Blondies
Blondies are chewy and sweet cookie bars with notes of vanilla and caramel.
Shortbread Chocolate Brownie Bars
Can't decide between brownies or cookies? Shortbread Chocolate Brownie Bars are a delicious mash up so you don't have to choose. This bar is a silky, fudgy, intense chocolate brownie baked on crunchy, buttery shortbread.
Magic Cookie Bars
Everybody's favorite, Magic Cookie Bars are buttery graham cracker crust with gooey, yummy layers of chocolate and butterscotch chips, pecans, and coconut
Pecan Squares
You'll find our Pecan Squares to be a light and buttery shortbread crust covered In a rich caramel-pecan topping. This is a hand held pecan pie ready for immediate satisfaction.
---
Signature Large Cookie
12in Round Cast-Iron Skillet Chocolate Chip Cookie
Thick and chewy, with crispy edges, full of chocolate chips
Great for birthdays, graduations, other celebrations – Serves 8-10
---
Cookie-of-the-Month Subscription Boxes
Art lovers will enjoy the cookie of the month subscriptions that Erika offers. Our cookie box subscriptions are perfect for anyone in Cañon City who wants to sample new flavors every month. Our custom cookie boxes come in varieties of half a dozen and a baker's dozen. The baker's dozen variety provides you with a 13th cookie for free.
Cookie-of-the-Month Boxes are also a great gift for any occasion and celebration such as birthdays, wedding/engagements, holidays, retirements, promotions, Thank You notes, graduation, or any reason to give a gift or celebrate.